Adidas model who revealed armpit hair in new ad responds to criticism: 'I'm beyond proud'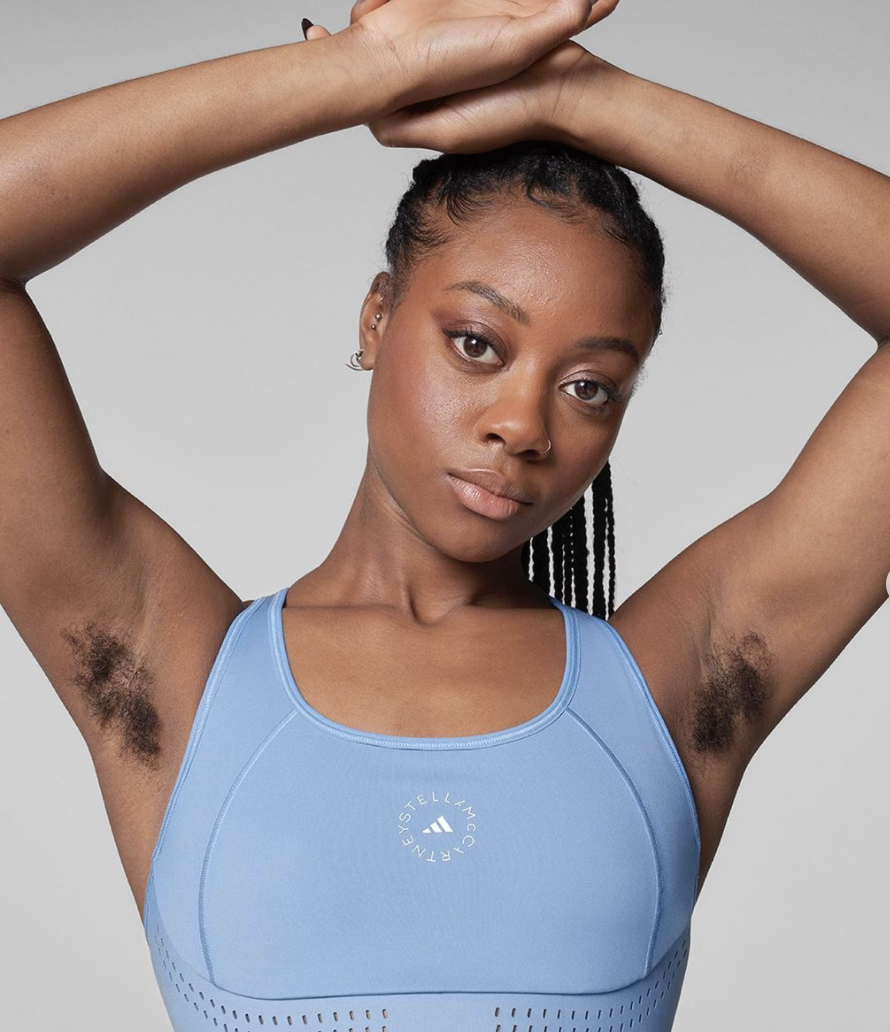 Yahoo
A new collaboration between Adidas and Stella McCartney proves that women look stylish even if they don't shave their body hair.
This week, the sportswear brand posted photos of its SS21 campaign starring professional pole dancer Leila Davis modeling a sports bra and high-waisted leggings, her armpit hair on full display. "Yes to everything, the model, the outfit, the message," someone wrote on the brand's Instagram page. Others added, "Thank you Adidas, for supporting women in having the choice to do with their bodies as they please," "Men can have body hair, so why is it not yet fully accepted in society for women? A beautiful post" and "Normalize body hair."
Other people weren't so flattering: "So cute. Not sure about the hairy pits tho," "Hell no!!!!" "Ok but really…why the hairy armpits" and vomit emojis cluttered the photo.
"People who don't like body hair, is everything okay at home?" one user wrote.
Davis herself tweeted: "It is so misogynistic to attack women for having body hair. They wouldn't do it to a man, and the level of steam they have for me is definitely because of my Blackness. It makes them mad that this big brand gave me and my armpit hair a platform."
The pole instructor in London and founder of the group Blackstage Pole which showcases dancers of color in the UK "as they are often underrepresented, ignored and discriminated against in the pole scene," tells Yahoo Life that she doesn't typically shave unless she feels like it. "I remember on my first day of shooting thinking, 'Well this is me in my natural state and that's okay.'"
Davis adds, "The majority of my friends have body hair [and] I'm not friends with any body hair shamers so it's not something I think about often. It grows where it grows. Shaving is an intervention, based on misogyny. [Allowing] your natural body to exist is so normal." Davis says racism "explains a lot of the hatred and entitlement society feels towards women and femmes with body hair, and the contempt it has for non-white women with body hair in particular."
According to Davis, people are empowered by the ad, except for a few trolls who sent her DMs. "My dad actually made my photos his phone wallpaper and my mum loves them so much!" she says adding, "I'm beyond proud."
An Adidas spokesperson tells Yahoo Life, "At adidas, we believe that through sport we have the power to change lives. This is our singular purpose, it is why we show up each and every day. And using the transformative power of sport for good is at the heart of what we do, whether that's with our partners, through our products, our actions, or the imagery we hero to the world. Sport belongs to everyone and we strive to cater to – and represent – all athletes."
It's not the brand's first go-around with inclusivity. In 2017, the Adidas Originals campaign showed Arvida Byström exposing her hairy leg, an image that resulted in harassment, including rape threats. "Me being such an abled, white, cis body with its only nonconforming feature being a lil leg hair," Byström wrote on Instagram. "…I can't even begin to imagine what it's like to not posses all these privileges and try to exist in the world. Sending love and try to remember that not everybody has the same experiences being a person."
And other brands and celebrities have jumped on the body-hair train. In 2019, Nike posted an Instagram photo of Nigerian-American singer Annahstasia Enuke revealing her unshaven armpit. Responding to social media attacks, Enuke told British magazine Dazed, "To be honest, I was mostly baffled that it rose any debate at all. I don't see why it's anyone's opinion what I do with my body and I definitely wasn't expecting people to be so ruffled by it."
And razor company Billie's June 2019 campaign depicted overgrown bikini lines and armpits asking, "Hang on, why is there so much pressure to be 'summer ready?'
Ashley Graham, Halsey and Emily Ratajkowski have also flaunted their body hair (Miley Cyrus even dyed it) and a February Marc Jacobs campaign stars Madonna's daughter Lourdes Leon flashing her armpit hair. Singer Julia Michaels also did not shave her armpits for this year's Grammy Awards. "Honestly, I'm not shaving my armpits ever again," she tweeted last year. "I don't know why I ever did before. Social norms can eat an eggplant."
"Outrage about women's unshaved underarms reflects a long history of women's bodies not belonging to themselves," Kristen Barber, an associate professor of sociology at Southern Illinois University, Carbondale, tells Yahoo Life. "Women's bodies have long been sites of control for the perpetuation of male domination, white supremacy, and heterosexual and class privilege — and this context is important for making sense of the controversy we see around these ads."
The backlash meets our expectations for men and women. "Women are supposed to be smooth and clean shaven, in contrast to hairy, rugged men," notes Barber. "Consider the fact that naturally-hairless men may be teased as not masculine enough, or men who shave their bodies are considered feminine or gay. So, when women don't shave, the ideas of men and women as inherent opposites risks exposure as a social myth."
Barber adds, "If women are going to show athleticism, they should remain smooth and shaved and wear sexy athletic wear, so that we still know they are women and are defined in relationship to heterosexual men's desires…If we break with these rules, then a pillar upon which we have built male supremacy crumbles."
According to Barber, appreciation for the type of ads put out by Adidas intersects with the Me Too movement and the Women's March, both of which, she says, create "a narrative where women should be able to move around the world without fear and with autonomy."