Ashley Graham: After Giving Birth, I Had to Relearn How to Love My Body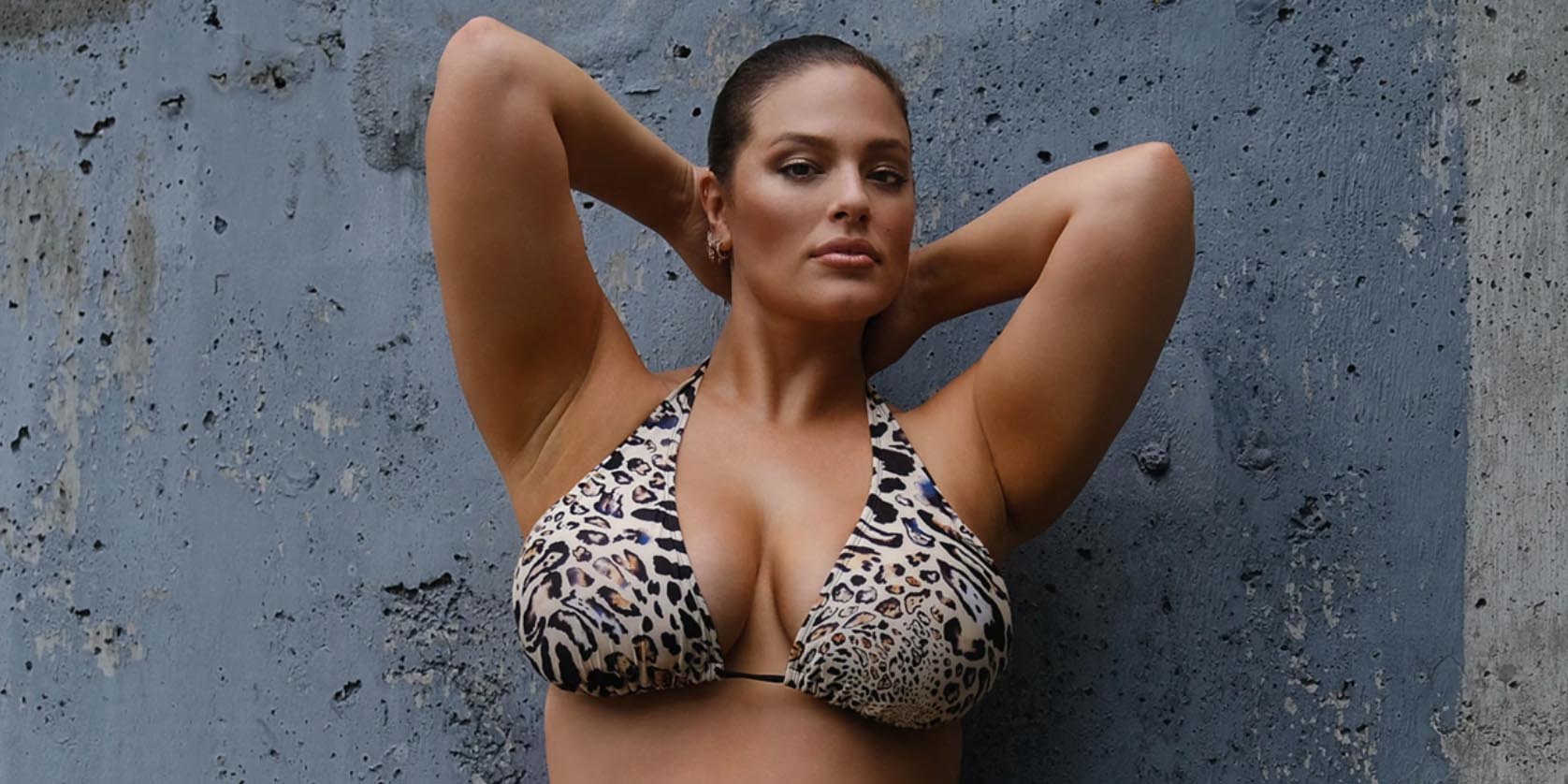 Ashley Graham is beloved by millions for her body advocacy and for her transparency about life as a mother. But it's taken months for her to speak about the impact of the birth of her twins on her body, and self-confidence. As she unveils her first postpartum lingerie collection, she reveals all in this deeply personal essay.
The night I gave birth to the twins, I hemorrhaged. It was 2 a.m. when my contractions started. At 3:45 a.m. I went to the toilet thinking I needed the bathroom, and Malachi came out just as my doula was arriving, in time to bring him into the world.
Two hours and seven minutes later, I had Roman in my apartment bathtub—we didn't even have enough time to blow up the home birthing tub because everything happened so fast. At first we were all celebrating. We couldn't believe that my labor lasted just three and a half hours, and I was feeling so incredibly grateful to this team of skilled, intelligent, and trained professionals around me, who were there for me when I had Isaac, and were now with me again for the twins.
The next thing you know, I looked at my midwife and I said, "I don't feel good. I think I need to lay down," and I blacked out. All I can remember is feeling a light touch on my cheek, which I found out later was actually somebody smacking the crap out of my cheek, someone holding my hand, my husband Justin in my ear, praying, and someone jabbing me with a needle in my arm. And I remember seeing darkness and what seemed like stars.
When I finally came to, I looked around and I saw everybody. They just kept saying to me, "You're fine. You're fine. You're fine." They didn't want to tell me, right then, that I'd lost liters of blood. They didn't want to tell me that one of the midwives had to flip me over, press her finger down right above my vagina bone to try and stop the bleeding. And they didn't want to tell me that the vein in my arm kept collapsing and they couldn't get the needle in for the Pitocin, so they'd had to put it in my hand. But even though they didn't want to go into the details at that moment, I looked around the room, saw blood literally everywhere, and let out this deep, visceral cry—an emotional release from the chaos I had just experienced.
The midwives asked me if I could stand up and walk to bed. I couldn't. I couldn't sit up or even crawl. So they got a twin-size bed sheet, rolled me onto it, and slid me down my hall into my guest room, where I had a trundle bed that I could barely roll onto. Thank goodness the twins were fine, while I lay on that bed for four straight days. I couldn't walk for a week. And I didn't leave my house for nearly two months.
Like so many women, what I went through with childbirth has reshaped my relationship with my body.
My midwives checked in on me every day. I think they thought I was going to be triggered by how severe the events had been, but I kept telling them, "You all saved me. God saved me. This is a true miracle." It was a period of time filled with the joy of being with my husband and my three sons, the rhythm of our new life, learning and laughter, acceptance and recovery.
I tell you all of this—in pretty unflinching detail—because I believe in the importance of honesty; in revealing things about myself that I hope will help others talk about what they too have been through. But also because, like so many women, what I went through with childbirth has reshaped my relationship with my body—and I say this knowing that I am the person who has been shouting from the rooftops to you all, "Love the skin you're in." Yet for me, the births of all my three children threw a lot of that out of the window.
When I was pregnant with Isaac in 2019, I can look back now and acknowledge how relatively naive I was. I had done extensive research on childbirth, and in many ways I was blessed to have had the home birth I wanted with him. It took six hours, I didn't tear, and he was born smiling into the world. It felt like a magical moment.
But then I was plunged into the postpartum experience—the handbook that no one can give you. I remember the first time I had to go to the bathroom after I gave birth, and I said, "Wait a second, all of this is going to keep coming out of me, for the next how long? I have to squirt myself down there because I can't wipe?" Isaac was my entire world, but as a woman, the physical and emotional aspect was messy, a lot of hard work.
At the end of February 2021, I had a miscarriage. It was devastating.
And then the pandemic hit, so Justin and I left New York with Isaac and moved to my mom's basement in Nebraska. It was a wild time—we didn't see anybody, and it felt really isolating, and challenging, raising this baby knowing nothing. I also obsessed over this 20 pounds that just wouldn't come off, and it felt like my body wasn't my own. I tried to brush it off and would say to myself, "Girl, you still fine, who cares." I got a few stretch marks, and I had a few really good cry sessions over the stretch marks. But looking back, if I would've known what I was about to be going through—oh, it's laughable what I was stressing out over.
We stayed in Nebraska until September 2020, and when we moved back to New York, we decided to start trying again. I've not shared this until now, but I fell pregnant in January of 2021, on my husband's birthday. Because it was my second pregnancy, I started to show early, and we were so excited. But at the end of February, I had a miscarriage. It was devastating; it felt like one of the biggest losses I had ever had in my life to date. And I understood at that point what so many other mothers have gone through. I had a child already, and looking at him was the only way to ease my pain, and yet the loss was so acute. I cannot even fathom how heartbreaking it must be for women who have not yet had children, and for those who have been through miscarriages multiple times. And yet the world expects us to move on and handle our grief with grace. I just remember breaking down more than a few times, just at random, and thinking, "How do women across the world do this? Because my story is no bigger than anyone else's."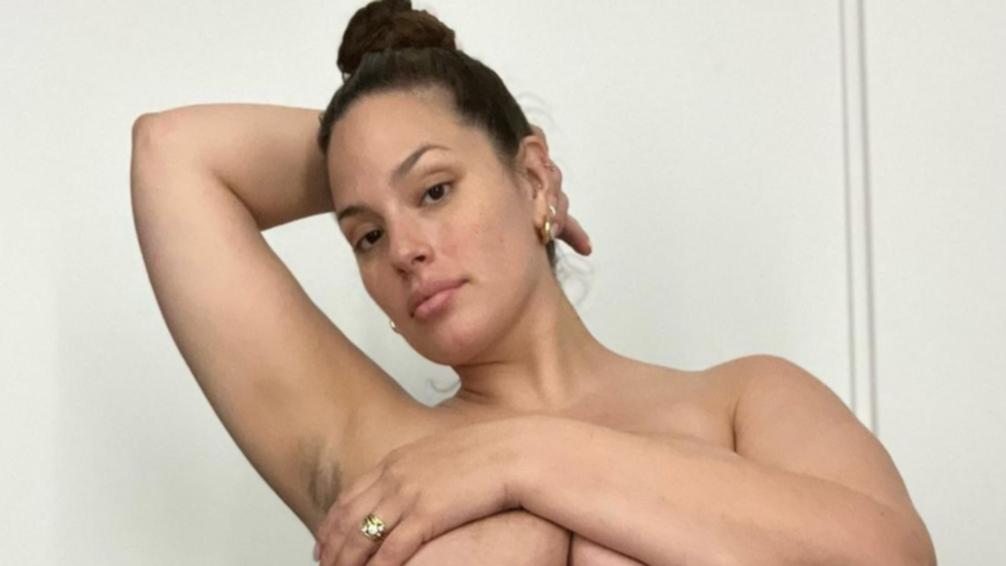 After a while we decided to try again, and this time I got pregnant with the twins. When we found out, it was incredible, overwhelming, and joyous. I consumed endless books about having twins; I felt like "I've got this." But it was also pretty much the end of my body as I knew it. I got huge, and fast.
At 30 weeks the stretch marks started to creep up. I thought to myself, Okay, Ashley, you can handle this. You already had a few, this is life. You are a champion for all kinds of bodies, who cares? This is going to be a great moment. You can share this with other women, it's fantastic.
I used to be a sex symbol, and now I am a baby-making machine with stretch marks up to my belly button.
But then they started creeping up even more, and you could see them coming out of my panty line, and then beyond my belly button, and I melted. I talked about it with my midwives. I talked about it with Justin. I was bringing it up constantly to my team. I was like, "You don't understand. I used to be a sex symbol, and now I am a baby-making machine and I have stretch marks up to my belly button. What the eff is happening?" Then one day I just stopped and thought, Screw it, this is my life, and I posted a photo of my stretch marks on Instagram, which that day my husband described to me as looking like the tree of life. Bless him.
I'd like to say that that was it. That after posting that photo, I found peace with myself and my new body. But it wasn't that simple. Malachi and Roman's birth was incredible, but the aftermath was deeply overwhelming. I couldn't walk properly for a long time, let alone exercise. I would shake, I didn't feel like myself physically or emotionally. I had planned to be back at work after eight weeks, but I was a wreck, and when I saw myself in the mirror, I still felt like I looked pregnant.
I felt, and still do feel, deeply lucky that I was able to take a longer maternity leave than I had planned—I'm privileged to have a job and an income that sustains me, and brands that were willing to wait until I felt capable of returning, when so many millions of women across the U.S. don't have access to paid leave, or protections from their employer beyond a short time frame. And yet, I work in an industry that expects me to return to work in a body that has "snapped back" – a pressure that no woman, in any industry, deserves to feel. I have always fought against unfair and unrealistic standards and yet, if I am being completely honest, here I was, expecting myself to snap back. And fast.
Before the birth of the twins I had this ideal timeline in my mind that I would have them by 39 weeks—and be back in the gym and ready to jump back into work by February, with no issues at all. I had been working on an incredible new collection of size-inclusive lingerie with Joanna Griffiths, the founder of Knix. We had planned for me to shoot the very first campaign for this collection I helped design fairly quickly postbirth. After everything that had happened during the birth of the twins, that timeline was thrown to the wayside and I just was not ready. Throughout our partnership together, Joanna had already shown me that she valued me as a human, as a woman, and as a mom, as much as she valued me as a business partner, and yet I still felt as if me not being ready after the birth of my twins was going to let her and the company down.
What happened next solidified the reason we are working together, why I invested in her business, and our real life story behind the scenes ended up being the inspiration for the campaign creative we have now revealed.
As a mom of three as well—an older toddler and younger twins, just like I have—Joanna could not have been more supportive of my healing, both physically and mentally. She and the Knix team supported me in a way postbirth that I wish every business could support women within their companies, whether they have just given birth, had a miscarriage, or are dealing with something else entirely. They gave me time. We pushed back the shoot to a time where I would be feeling better in my skin—more ready to model in lingerie, stretch marks and all.
As a body advocate, I've learned it's okay if the journey to love the skin you're in is more complex than you could ever have imagined.
Inspired by this journey, we based the creative of this campaign around women's relationships with their bodies—it's called Reveal Yourself, which is ironic because here I am, revealing myself, in the hope that it empowers more women to speak more openly about their experiences. Because even as a body advocate, I've learned it's okay if the journey to love the skin you're in is more complex than you could ever have imagined.
Even now, if I'm completely honest, I go in waves. I am still not entirely comfortable in my body, no matter my own body positivity advocacy. There are days where I look at myself and I say, "There's nothing you can't handle. There's nothing you can't do." Then I look at the stretch marks that still exist and will forever exist on my stomach, and I think, God, why did you have to go up above my belly button? I'm a lingerie model, for God's sake. This is not what lingerie models look like. But then I remind myself, "Well, I've never been the norm of what a typical lingerie model looks like."
Day by day it goes back and forth. I tell myself that I am a warrior for carrying and birthing my babies, for surviving the hemorrhage, for being a mother to my three boys, and yet also still struggling with the transformation of my body. But today is one of the days where I feel incredibly proud—proud to launch this collection that is made for real women who are willing to feel vulnerable and see strength in that. And I'm proud to share the story behind the images and the campaign that you see. The truth that this wasn't easy for me. This was messy. This was emotional. And it included me reteaching myself the affirmations that I have taught many—that I am bold, I am brilliant, I am beautiful—and that we all are. I want to continue to create spaces for women to feel fearless and beautiful and vulnerable, all at the same time.
Ashley Graham is a model, podcast host, and entrepreneur. Follow her on Instagram @ashleygraham.