Trump to surrender to Georgia authorities by August 25 following his RICO indictment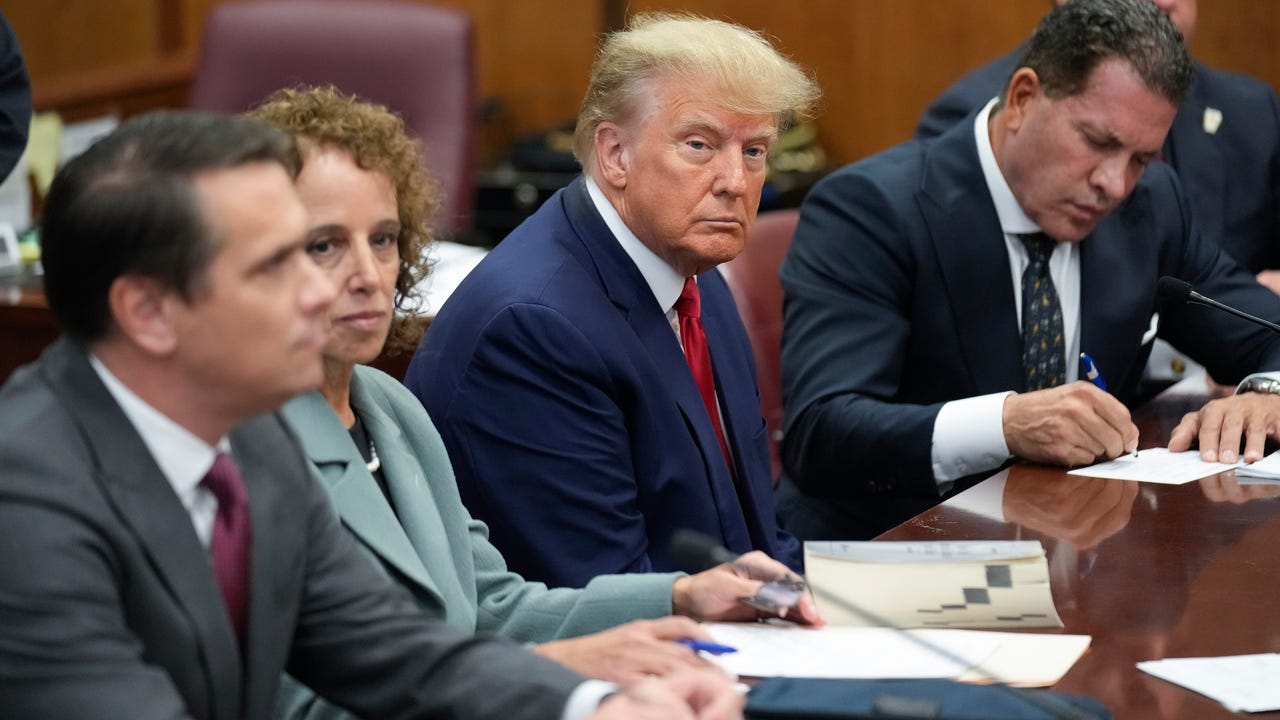 AP
In delivering Trump's RICO indictment, which charged that he attempted to rig the 2020 election, Fulton County DA Fani Willis stated that the former president must voluntarily turn himself in to Georgia authorities by August 25.
The same holds true for the additional 18 co-defendants listed by Willis in the late-Monday-night unsealed indictment.
Willis stated in a press conference after the indictment was unsealed, "I am giving the defendants the opportunity to voluntarily surrender no later than noon on Friday, the 25th day of August, 2023," adding that arrest warrants were prepared.
The 19 defendants have not yet surrendered themselves.
According to the Fulton County Sheriff's Office, all 19 suspects included in the indictment are anticipated to be booked into the Rice Street Jail. According to the statement, the defendants can "turn themselves in at any time" because "the jail is open 24/7."
What does it mean to voluntarily surrender?
You don't get taken into custody by authorities when you voluntarily surrender; instead, you turn yourself in at a precinct. Here, Trump and his 18 allies are required to hand themselves in to Fulton County law enforcement.
Once they turn themselves in, they will be processed at the Fulton County Jail, which may involve getting their fingerprints taken and having their picture taken.
The sheriff will have to discuss the conditions of the surrender with the Secret Service and Trump's lawyers, as CNN noted.
Is Trump going to jail?
It's yet unknown if Trump and his associates would be taken to a jail cell following their arrest.
Trump will have an arraignment hearing following his surrender, where a judge will decide the specifics of his bond or bail. He'll probably post bond and get out.
According to CNN, defendants who are not detained right away after being accused, as happened in this instance, can often negotiate a bond amount and other conditions of release with the district attorney's office.
Has Trump given up in any of his other criminal proceedings?
The fourth criminal investigation against Trump is the Georgia RICO indictment. Three times already this year, he has turned himself in to the authorities.
Trump turned himself in to the Manhattan district attorney's office voluntarily in April after being accused of fabricating business papers to hide payments made to Stormy Daniels for hush money prior to the 2016 presidential election.
Wow, I'm going to get ARRESTED. Unbelievable that this is taking on in America. MAGA!" At the moment

, Trump posted on Truth Social.
After being charged with allegedly stealing sensitive documents from the White House and concealing them from law enforcement by moving them to his Mar-a-Lago residence, Trump voluntarily made an appearance in court in Miami in June for his arraignment.
Trump also turned himself in in August in a courtroom in Washington, DC, after being charged with involvement in the January 6 Capitol riot and attempting to obstruct Joe Biden's 2020 candidacy.