'YOU CAN'T TRUST HIM' Donald Trump's sister Maryanne says he has 'no principles' and blasts his 'goddamned lying' in secretly recorded audio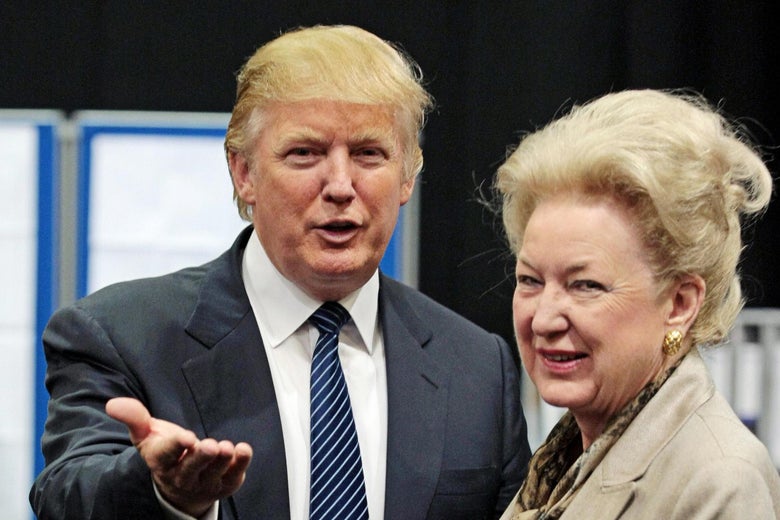 Image Credit: Daily Mirror
The audio was obtained by the Washington Post and recorded by the president's niece Mary L. Trump.
Maryanne Trump Barry is reportedly heard saying: "All he wants to do is appeal to his base.
"He has no principles. None. None. And his base, I mean my God, if you were a religious person, you want to help people. Not do this."
Trump's 55-year-old niece Mary – who recorded the audio – recently published a book, titled Too Much and Never Enough: How My Family Created the World's Most Dangerous Man.
The book claims that Trump's dad, Fred Trump Sr, neglected, manipulated, and emotionally abused him – but its allegations have been dismissed by Trump's press office.
"Mary Trump and her book's publisher may claim to be acting in the public interest, but this book is clearly in the author's own financial self-interest," his spokesperson Sarah Matthews told The Sun.
"President Trump has been in office for over three years working on behalf of the American people – why speak out now?"

Matthews added
"The president describes the relationship he had with his father as warm and said his father was very good to him. He said his father was loving and not at all hard on him as a child."
In the recording, Barry, 83, is also heard complaining about her brother's lying.
"His goddamned tweet and lying, oh my God.
"I'm talking too freely, but you know. The change of stories. The lack of preparation. The lying. Holy shit.
"It's the phoniness of it all. It's the phoniness and this cruelty. Donald is cruel."
Her scandalous statements were recorded in 2018.
When Trump's niece asked Barry what Trump has read, she answered: "No. He doesn't read."
She blasted the president for not reading her immigration opinions and said she did not agree with "what they're doing with kids at the border."
Barry also called her brother a "brat."
She claimed to have done his homework for him and "drove him around New York City to try to get him into college."
Maryanne was born in 1937 and is Trump's eldest sister.
She was a senior federal judge on the Third Circuit Court of Appeals, but became inactive in 2017 after her brother took office.